Quick Links & Information
Collective Bargaining Agreement
For Fall 2021, the PFA intends to hold its Executive Board Meetings on every 2nd and 4th Thursday of the month, starting at 3:00 PM and ending at5:00 PM.
PFA Mission Statement

-

The PFA's goal is to achieve parity with the full-time faculty by improving pay, benefits, and working conditions of its bargaining unit members.…
"You must be the change you wish to see in the world."
~Gandhi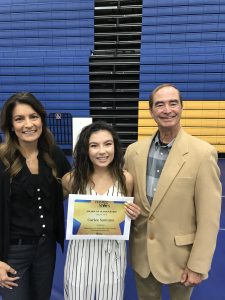 Carlee Santana wins the Allan Hancock College Part-Time Faculty Association Scholarship of $1,000 for 2019.  She is pictured here with her mother and PFA Executive Board member David Yundt.