Executive Board Meetings
For Fall 2019, the PFA Executive Board will hold its meetings on the 2nd and 4th Thursday of each month, from 3–5 PM.
Upcoming Events
The PFA's next Executive Board meeting will take place on Thursday, September 26, from 3–5 PM.
PFA Mission Statement

-

The PFA's goal is to achieve parity with the full-time faculty by improving pay, benefits, and working conditions of its bargaining unit members.…
"You must be the change you wish to see in the world."
~Gandhi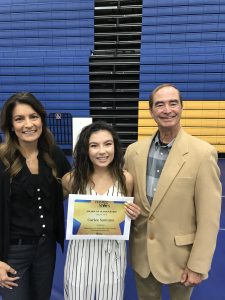 Carlee Santana wins the Allan Hancock College Part-Time Faculty Association Scholarship of $1,000 for 2019.  She is pictured here with her mother and PFA Executive Board member David Yundt.